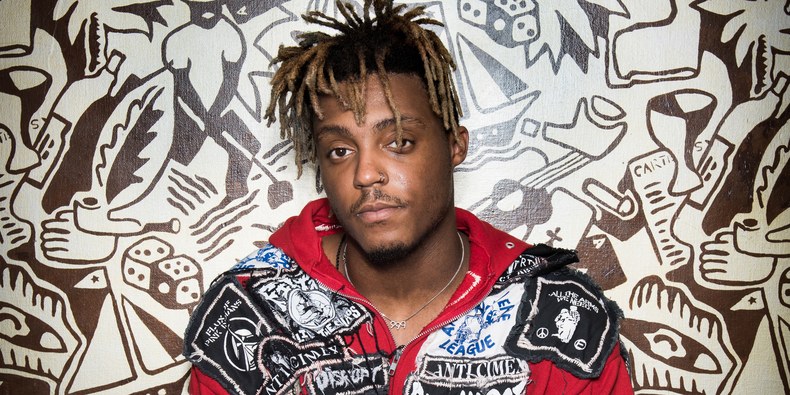 In January 2018, Lil Bibby asked us to make a YouTube channel for a new artist he was managing named Juice WRLD. My initial reaction was, "what kind of name is Juice WRLD…" (although I love the name now because of the energy he brought to the world). Without hesitation we obliged, as we always would for whatever Bibby needed.
I started listening to his music and, like everyone when you first hear Juice, I was immediately hooked. It didn't sound like anything I'd heard before. There was no artist you could directly compare him to. That's what made Juice WRLD truly special - that he truly created his own sound. The lyrics were so emotional and vulnerable, and it was refreshing in a genre that is often considered closed-off and impersonal.
Once Bibby said Cole Bennett was going to shoot a music video for Juice, I knew it was over. Cole's Lyrical Lemonade channel only had 1M subs back then, but we had been working with him for awhile and his growth was like nothing we had seen. Combining his vision with Juice's music was exciting, but I never would have imagined how perfect the collaboration would turn out, especially on "Lucid Dreams". It was perfect timing given how talented, young, and different they both were. The rest is history.
That was less than two years ago, but it feels like a lot longer because Juice accomplished so much in such a short period of time. We witnessed something truly special working with Juice. He only had a couple songs and an EP on Soundcloud when we helped him launch his YouTube channel back in March 2018, but within two months he was getting millions of views on his videos, signed a major label deal, and landed on the Billboard charts - all before his first album. He went on to release his platinum debut album later that year, and by 2019 had a number one album on the Billboard 200, a collab mixtape with Future, and a VMA Top New Artist award under his belt. The difference from watching him perform at our SXSW show with Lyrical Lemonade in March 2018 as a reserved newcomer who didn't know all his lyrics, to seeing him as a veteran headliner at Summer Smash, where the entire crowd was singing his songs, was wild. It was unbelievable, and it was only the start of his career. He quickly turned into a legend.
Waking up to the news of his death was extremely upsetting. I didn't know how to react at first. I just chucked my phone at the wall and laid back in bed. In hip-hop, we've lost too many great people too soon, but this hit differently. I didn't know him well personally but I knew (and it was easy to see) the effect he had on people. His music and the way he carried himself helped millions of young people express themselves with less fear. He was open, honest, and gave a voice to a generation. His music was innovative. The potential was endless. I can't even imagine the type of music he would have been making at 27 or 35. If John Lennon died at 21, there would be no Beatles albums. At 21, 2Pac had only released his debut album.
Most upsetting of all, he was a truly good person down to his core - always spreading good energy to people and staying positive. He's probably the only artist who would respond with heart emojis after being sued for $15M. After looking back at every one of Juice WRLD's Instagram posts, it was hard to stay upset because you're reminded of that positivity that he kept even though he had demons of his own. Juice's life was cut short but his legacy lives on, and we can help carry on that legacy by spreading that same positive energy and spirit around us.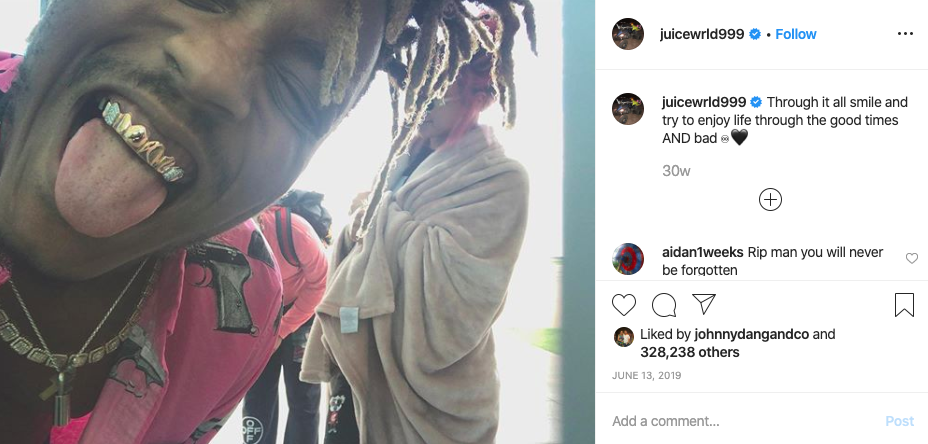 Music is like nothing else. It touches, heals, inspires, relaxes, pumps up, and cheers up your soul. Artists play an important role in our lives because of this, and nowadays more of them like Juice WRLD have taken more initiative when given that power. For people working in the music industry, it is of course our responsibility to help get an artist's music and message to as many people as possible, but I believe it is also our responsibility to help protect and take care of those artists.
There is no one to blame for Juice WRLD's death. He had an incredible team around him. I believe the artists he was influenced by are not to blame either, as they were going through their own issues. His career and fame went from zero to sixty in a matter of months - how does one deal with that? We've lost too many artists because the lifestyle and pressures don't make space for taking care of their minds and bodies. It's easy to spiral out of control or to isolate yourself from everyone else… it's easy to want to numb the pain with drugs.
The industry as a whole doesn't have any support or education on dealing with all the things that come with success. It's not just our industry, but this is slowly changing in the world too and the industry is being forced to address some of these issues. I don't have the answers, but I know we should be putting in more effort to better understand and create a support system that focuses less on numbers or the next hit or tour. This is even more important when we think about how fragile an artist's career is, and how quickly fame and success can disappear. With so much pressure, it's easy to burn out or go to a dark place when you're no longer on top.
We spend so much time trying to be successful that we forget to stop and think about why we wanted to be there in the first place. For most, it's a path to happiness. It's important to remember that once you get there, the focus isn't simply about maintaining success but to ensure it's really what you want, and to make the necessary changes to be or stay happy.